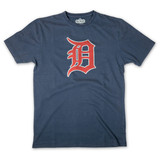 As an active sports enthusiast and participant, one should be able to find unique sportswear with a distinctive fashion style. As a fashion conscious individual, one should be able to combine progressive fashion with vanguard sports cultures.
Red Jacket's mission is to blend sports styling and bold fashion initiatives.
At Vogels and Fosters, we carry fashion forward, fun Red Jacket products for men and women, specifically Tigers and Red Wings.