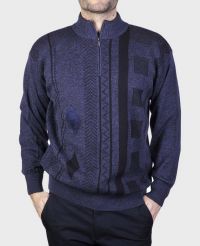 LeLa Knitwear Inc. was founded in 1960 as a small family run knitting mill in Montreal, Canada, and has developed into a premier Canadian sweater and knitwear manufacturer.
From designing, via prototypes, up to production, everything is completed in our factory based in Montreal. We specialize in flexible production and we are oriented toward small and medium series lots.
All our collections strive to deliver trendy high quality, comfortable, creative products in all sizes including Big & Tall.
Lela Knitwear uses only premium yarns, coupled with outstanding manufacturing details to create a distinctive and beautiful garment.
Our products are all made in Canada and we distribute world-wide.