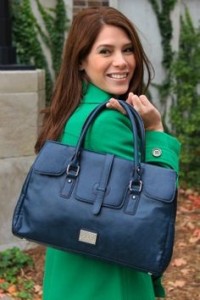 The driving force behind the Jenna Kator collection is to provide designs that reflect the needs and wants of the lifestyle of today's women. We offer affordable price points and strive to be up to date on the latest fashion trends season after season. Our designs are classic, yet trendy, while upholding complete sophistication; they take you from day to night and are for women of all ages.
The State of Michigan is our muse given its beautiful cities, landscape and residents. We are paying tribute to Michigan by naming our showpieces after places that exhibit great beauty, character and charm.
Jenna Kator handbags have the look of leather, but are "vegan", which means they are created with no animal products or testing.
While growing up in Troy, Michigan, Jenna Francisco, now Jenna Kator, always had the desire of becoming a business owner. It wasn't until Jenna attended Michigan State University, where she met her husband Michael Kator, and received a Bachelor of Arts Degree in Advertising to really understand that she was much closer to making her dreams a reality.
After graduation Jenna worked as an automotive media planner where she learned the ins and outs of marketing. As the automotive industry in Metro Detroit took a downturn in 2008, Jenna found that this was an opportunity to showcase her own private label of designer handbags and accessories that reflect her love for fashion.
Jenna's upbeat personality has always meshed well with others and believed that this would be an excellent time to bring some light back into the Motor City, its suburbs and the State of Michigan. Jenna has always admired the fashion coming out of the east coast while appreciating the lifestyle of the people living along the west coast. She felt by combining these two elements she would then be able to help restore the self-confidence of women by allowing them to be fashionistas at affordable price points.