The CurrexSole RUNPRO Insole (FootDisc) were designed for the serious jogger, runner, and walker that puts a lot of miles under their feet. With the help of integrated gel dots (built into the insole), the CurrexSole RunPro FootDisc Insoles helps reduce injury, keeps your feet fresher for the longer distances before wearing out, and improves your physical performance. CurrexSole RunPro Low Arch Insoles reduces: ACHILLES TENDINITIS ANKLE PAIN & ARCH PAIN BACK PAIN BLISTERS BURSITIS COLLAPSED ARCHES HEEL PAIN & KNEE PAIN Overpronation (over-pronating) PLANTAR FASCIITIS ILIOTIBIAL BAND SYNDROME RUNNERS KNEE SHIN SPLINTS.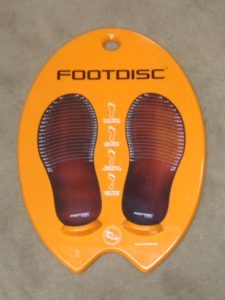 We invite you to come in and try our Currex measuring tool, the "Foot Analysis"
Currex developed the FOOTDISC & CurrexSOLE Insoles for all sports activities. With the use of Currex's patented Foot Analysis, an athlete not only analyses their foot arch type (low, Med., High), they analyze their gait (or stride) to determine what insole is best for those with neutral, bow-legged, and/or knocked-knees (pigeon toed) stances for the proper support of both over-pronating & supinating (over-pronation & supination) feet.
Choose Runpro High if your arches are high and your shoes often rub the top of your foot.
Choose Runpro Medium if there is an equal load on the lateral and medial areas of your foot.
Choose Runpro Low if you have low arches and your shoes come off easily.
100% contact. Everything fits − naturally. You can feel this insole is right for your sport! Take your personal performance to the next level, with Natural Performance Insoles by currex. The Athlete's Choice.