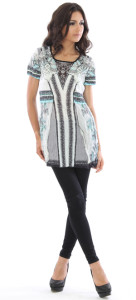 While all of North America is seemingly drifting into the fashion mainstream, at Cativa we continue to strive for more originality and distinctiveness in today's fashion.
As a new and innovative collection, our attitude from the outset has been to defy uniformity in our quest for more creativity.
Our hallmark styling is derived from our contemporary designs, fresh colour palettes, and easy-wearing fabrics. The result: each style has the mood and feel of casual sophistication that caters to today's discerning woman.